iPhone 8 Repair Orange County Tustin Orange Irvine California  

iPhone 8 Screen Repair
THE BEST  iPhone 8 Repair shop in Orange CA
 Fixit Solutions Inc.

 
 IRVINE Orange city Tustin California
Mobile Service:(714)941-9220
 x

Fixit

stocks quality affordable replacement LCD's for iPhone 8 repair or iPhone 8 screen repair  in black or white and can have you on your way in half the time of other

repair shops

.  We offer free diagnostics on all devices.
 We also carry all other replacement parts such as batteries iPhone 8 back glass charging ports ear speakers loudspeakers and buttons.
 When you're having charging issues problems with sound or any of the functions on your iPhone 8 xFixit's professional technicians can 
have your device working like new with our fast affordable repair processes!
iPhone 8 Repair iPhone 8 Screen Repair iPhone 8 Repair near me iPhone 8 Repair Orange County CA iPhone 8 screen Repair Orange CA iPhone 8 Back glass Repair
iPhone 8 Review
Apple's iPhone 8 wasn't even the top-of-the-line iOS phone when it came out, but it's still a robust choice for functionality and speed, with a traditional home button packing an easy-to-use Touch ID fingerprint sensor to boot. In short, it's as powerful as the iPhone X at a notably lower cost - which is still impressive years after both phones have come out.
If you're scouring for the best iPhone right now, consider Apple's newest range, the iPhone 11, iPhone 11 Pro and iPhone 11 Pro Max. They're two years newer than the iPhone 8, but a fair bit pricier to match. Thankfully, when Apple introduced its 2019 line of flagships, the company cut the price for the iPhone 8.
When Apple announces new iPhones, it typically drops a few aging devices, but the iPhone 8 has manage to survive unscathed, and enjoys the new features in iOS 13 to boot. Apple now considers it the 'budget' entry to the iPhone series for people who want Apple's tech without paying for a high-end phone. That means it's still easy to pick up this smartphone from a variety of places at half (or more) off the price tag of the latest iPhone.
The 8 is a legacy iPhone through and through: if you've owned an Apple handset from the iPhone 6 onwards, you'll know exactly what you're getting with this smartphone. There haven't been too many changes over previous models, but for some, that's a bonus.
iPhone pessimists and Android fans (sometimes the same people) will be quick to point out the seemingly minor incremental upgrades over 2016's iPhone 7, but for those with an iPhone 6S or before, that's less of a problem - especially with the 8's more powerful chipset.
While it may not offer much over its direct predecessor, the iPhone 8 has enough about it to make it an exciting upgrade for those with older iPhone handsets. It also enjoys all the goodies in iOS 13, like Dark Mode and a range of app speed increases, so you can make the most of your iPhone experience.
iPhone 8 Repair iPhone 8 Screen Repair iPhone 8 Repair near me iPhone 8 Repair Orange County CA iPhone 8 screen Repair Orange CA iPhone 8 Back glass Repair
One of the big upgrades Apple has given its new iPhone, and the focus of the design, is the  glass rear – it's an upgrade over the aluminium body used since the iPhone 5, and its inclusion means a brand-new feature in the shape of wireless charging.
However, in terms of size, shape and look the iPhone 8 uses the same form factor as the iPhone 7, 6S and 6, and from the front it's almost impossible to differentiate between the four generations of handsets.
The iPhone 8 is a fraction of a millimeter thicker (7.3mm vs 7.1mm), wider (67.3mm vs 67.1mm) and taller (138.4mm vs 138.3mm) than the iPhone 7, but you won't notice. The point we're making is that it's similar... very, very similar.
It's heavier too, an extra 10g over the iPhone 7, which may be a little more noticeable – but it's not overbearing, and we were still able to comfortably hold the phone in our palm.
The 'if it ain't broke, don't fix it' argument can be tossed around here, and Apple certainly hasn't had any trouble shifting large quantities of its smartphone in recent years; but in a year when Samsung and LG dramatically slashed the bezels to give us striking, futuristic designs, the iPhone 8 falls flat.
It's not like Apple has missed this trend – the bezeless iPhone X is testament to the fact that it hasn't – but it means the iPhone 8 and iPhone 8 Plus look ever-more dated against the competition, which now includes a rival in their own camp.
There's still a camera bump too – this is easily remedied with a case, but for those wanting to show off the new glossy rear of the phone it increases the chance of damage when you place it on a flat surface.
The power/lock key is still easy to hit on the right side of the handset, as is the centralized home button with Touch ID fingerprint scanner located in the bezel below the 4.7-inch display. The mute switch and volume keys reside on the left of the phone, and are again well placed for easy manipulation.
iPhone 8 Repair iPhone 8 Screen Repair iPhone 8 Repair near me iPhone 8 Repair Orange County CA iPhone 8 screen Repair Orange CA iPhone 8 Back glass Repair.
It all works, the design is functional, and it's not a bad-looking handset – but glance at that price tag and it's hard not to feel a little short-changed on initial inspection.
A final word on the glass rear too – we prefer the way it looks and feels versus the metal body of the iPhone 7 and co., but it also means it's even more slippery. 
If you're someone who's liable to drop their smartphone, the iPhone 8 comes with a high risk warning, so invest in a bumper, as there's glass to be smashed on both sides now. 
Apple says the glass is super-tough, but we've found that it does scratch – and if you opt for the Space Grey color it's also quite the fingerprint magnet. The silver model we reviewed was more forgiving though, which meant less time cleaning it with our shirt sleeve. Apple also offers a striking gold color option and, now, the Product Red iPhone 8 if you held out for the special edition hue.
iPhone 8 Repair iPhone 8 Screen Repair iPhone 8 Repair near me iPhone 8 Repair Orange County CA iPhone 8 screen Repair Orange CA iPhone 8 Back glass Repair
 Display 
 4.7-inch Retina HD display, same as the iPhone 7 
 Apple's True Tone tech improves colors and contrast 
 On paper there's nothing between the iPhone 8 display and the screen on the phone it's replacing. Both it and the iPhone 7 boast a 4.7-inch IPS display with a 750 x 1334 resolution, giving a 326 ppi pixel density.
In fact, it's the same size and resolution as the iPhone 6, which was launched back in 2014.
While on paper this may seem like the same old story of Apple refusing to be pushed on upping specification, it hasn't left the display alone completely, adding True Tone display technology to the panel.
What this does is monitor the ambient light around the handset, and calibrate the screen to best suit the lighting conditions you're in. It results in stronger colors and improved contrast, which does make the display look better than iPhone screens that came before it.
Place True Tone and non-True Tone iPhones side by side and you can see some improvement, but the iPhone 8's display still doesn't have quite the same colorful punch, or clarity, as the QHD+ AMOLED display on the Galaxy S8.
iPhone 8 Repair iPhone 8 Screen Repair iPhone 8 Repair near me iPhone 8 Repair Orange County CA iPhone 8 screen Repair Orange CA iPhone 8 Back glass Repair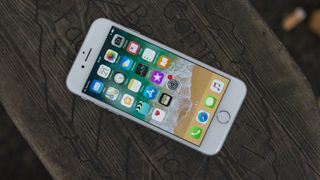 The color reproduction is improved as well, with Apple focusing on what actually makes the screen look good rather than pushing the pixels for the sake of the spec sheet... but a boost to Full HD would have made an actual difference to the quality and clarity.
Games and videos look bright and vivid though, and the screen itself is responsive, giving a solid overall experience. It's hard to knock the screen on its own merits, as it's only when you put it alongside rivals that it lacks the same clarity.
The fact that the screen is smaller than a lot of flagship rivals also means it's easier to hold and use one-handed, and we were able to stretch our thumb comfortably to most areas of the screen, which isn't as easy on the larger iPhone 8 Plus.
iPhone 8 Repair iPhone 8 Screen Repair iPhone 8 Repair near me iPhone 8 Repair Orange County CA iPhone 8 screen Repair Orange CA iPhone 8 Back glass Repair
iPhone 8 Repair iPhone 8 Screen Repair iPhone 8 Repair near me iPhone 8 Repair Orange County CA iPhone 8 screen Repair Orange CA iPhone 8 Back glass Repair